The dentist might not be the first place you think to turn for skincare advice. But while you're beautifying your smile, you might want to think about perfecting your skin at the same time. An increasing number of dentists are offering facial aesthetic treatments such as Botox and fillers.
It makes sense; after all, dentists are familiar with needles and how to make injections less painful or intimidating. Dentists also have a very thorough understanding of the muscles in the face. This makes non-surgical aesthetic enhancements more effective when put in the capable hands of dentists.
To expand this offering, Sloan Dental is also offering dermatology services, including medical-grade skin products. We are one of the first dental practices to offer Zo Skin Health in the UK.
What is Zo Skin Health?
Zo Skin Health is a medical-grade skincare collection that addresses specific skincare conditions. Zo Skin Health can address many skin concerns, including:
Ageing skin, wrinkles and fine lines
Dull or tired-looking skin
Acne and acne scarring
Red or sensitive skin
Dehydrated skin
Sun-damaged skin
It all starts with a skin consultation to determine which treatments are right for your skin type. From there, your Zo Skin Health dermatologist or aesthetician will provide a prescriptive collection to help tackle your skin concerns.
The Zo Skin Health collection contains many skincare items you might recognise. From foamy cleansers to brightening serums, you might need a combination of items to help perfect and refine your skin.
Is Zo Skin Health medical grade?
Yes, these products cannot be purchased without guidance from a trained aesthetician. By choosing medical-grade skincare products, you can ensure you are using the right products for your skin concerns.
It's not uncommon for those with hypersensitive skin to aggravate their condition by applying aggressive peels or mechanical scrubs. By choosing a medical-grade skincare collection, you eliminate the risk of choosing products that will do more harm than good.
What is medical-grade skincare?
Medical-grade skincare is any product that requires a consultation with an aesthetician before you can purchase them. They are typically made to much higher standards than the types of products you would find in a high street chemist. They are even ranked above premium brands, as they will typically contain higher concentrations of active ingredients.
The medical-grade acne products in the Zo Skin Health UK collection are prescription-strength. By choosing medical-grade skincare, you have the added reassurance of a professional consultation before you go ahead. Choosing the wrong products can be an expensive mistake – particularly if you feel drawn to premium beauty brands.
Another benefit of medical-grade skincare products is the testing that goes on behind the scenes. The ingredients are tested to be effective. So when you pick up a brightening serum, you can be confident it's going to be up to the task.
Introducing the Zo Skin Health UK Collection
Every Zo Skin Health journey starts with a consultation. Aileen Sloan BDS MFGDP(UK) MSc (Aesthetic Practice) is our resident skin treatments expert. A qualified dentist for 10 years, Aileen then went on to secure an MSc with distinction in Aesthetic Practice from the University of Northumberland. She is the only dentist in Scotland to have achieved this level of aesthetic expertise.
During a consultation with Eileen, you will have the chance to ask questions and talk about your main skincare concerns. You might be worried about ageing, you might have concerns about sun damage, or you might be wondering how to tackle acne. Your consultation might lead to in-office treatments or an at-home skincare routine to follow.
You'll have access to the Zo Skin Health UK collection which includes cleansers, exfoliants, toners, retinol treatments, masques, peels, sunscreen, eye cream, moisturisers and more.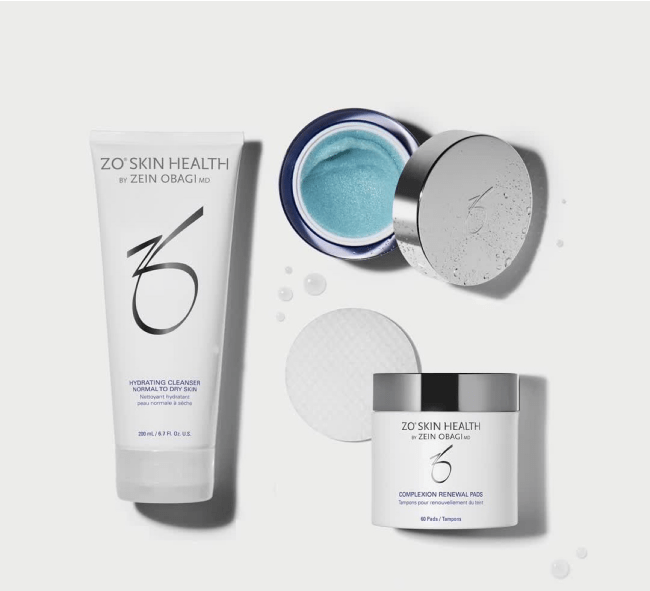 An example of treatment programmes includes the Acne Prevention and Treatment Programme. This system uses four products that help to unclog pores, reduce sebum production and tighten the pores. This system includes an exfoliating cleanser, exfoliating polish, complexion renewal pads and a sulphur masque.
This is just one example of a treatment programme used for specific skincare conditions. To learn how Zo Skin Health could help to transform your skin, get in touch with Sloan Dental today.