During lockdown, we can't enjoy the usual skin treatments on offer, but that doesn't mean our skin has to suffer. Here are 5 top tips to protect and boost your skin from the comfort of your home.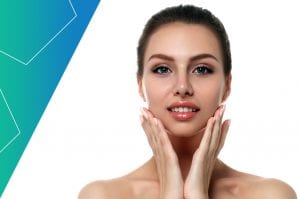 1. Drink…..water!
It's the oldest trick in the book, but it actually works! Collagen and elastin in the skin act as scaffolding, giving it plumpness and elasticity, yet they need a fluid-like environment to function. If the skin is dehydrated and these components can't do their job – premature signs of ageing like wrinkles and dull skin can become apparent. In addition, the oil production in skin is disturbed when the skin is dehydrated. Sometimes, this may lead to excess oil production and acne.
2. Keep a routine
It is important to keep up your regular cleansing routine, even if you are not wearing make-up during the day. Changes in diet and increased levels of stress can trigger increased oil production which quickly congests skin. If skin is cleansed twice a day with a balanced PH cleanser, sweat, sebum production and toxins are removed without causing inflammation.
3. Block the Sun's Rays
Sunny weather allows us to enjoy the outdoors and get some much needed fresh air but we shouldn't have to compromise our skin in the process. Even in Scotland, the sun's rays can start to break down collagen in just 15 minutes which ages the skin long before any visible signs of redness. Incorporating a lightweight sun cream into your daily skincare regime is one of the fastest ways to stop the ageing process. The ZO home skincare range prescribed at Sloan Dental includes 5 types of sun-cream to suit your skin-type which can be worn daily under makeup. They block UVA and UVB rays but also HEV rays which is the blue light from digital screens like tablets and smartphones.
4. Use retinols
Lockdown with its limits on social occasions could be a great time to use anti-aging retinol products on the skin as initially, using retinol on the skin can cause some redness and flakiness. Products containing retinol target the deeper layers of the skin and stimulate collagen and elastin production. They also improve circulation in this area, increasing oxygen and nutrient delivery to the cells. This translates to an improved texture and tone to your skin. Sun protection is a must when using retinols however as skin is much more reactive to the sun's rays after use.
5. Digitally Fake it!
Seeing friends and family in video calls has its pros and cons. Delayed connection or multiple conversations in a big group may be difficult but it's a great opportunity to put your best face forward. Spend some time finding the sweet light spot in the room that is flattering for your face. Harsh overhead light may draw attention to a spot or an ageing shadow so consider natural light or side lighting. Remember also that certain colours flatter your skin tone so swapping your outfit may be the most efficient beauty treatment you have ever had. Just remember not to wear the same top every time you speak to your Mother-in-Law!!!