Many people will already be familiar with the concept of dental braces. They are one of the most common dental treatments carried out today, with most people getting theirs in their early teens or later. However, it's not uncommon to see adults with some form of dental braces as well – after all, the problem of uneven or crooked teeth can affect people at many different stages of life.
With braces, the alignment of your teeth will be permanently and visibly changed, leaving you with a straighter and more even smile. Braces also help your teeth to function better, and it may also reduce the risk of decay or infection.
What are the different types of braces?
Orthodontic dentistry involves several types of braces, but all of them work by gradually pushing teeth into a better alignment.
Metal dental braces use wires and brackets to correct the position of the teeth. The wire is threaded between each of the brackets and over time, forces your teeth to move.
Ceramic dental braces are made from composite materials instead of metal, and they tend to be a lot less visible against the teeth. They are resistant to staining and tend to be worn for a lot less time than the conventional metal braces. Their discreet appearance can be further enhanced by using white metal or clear plastic ties, which make them even less noticeable in your mouth.
Invisible clear braces have become more and more popular in recent years as they are almost completely invisible when worn. Instead of brackets and wires, they use clear plastic aligners which fit over the teeth.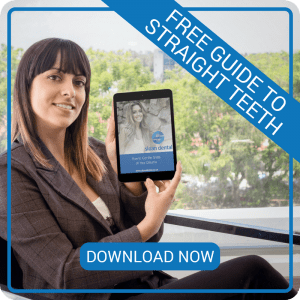 Here at Sloan Dental we have created a free guide to Straight Teeth
Created by our very own Niall Sloan, this guide will tell you everything you need to know about having braces and the benefits a straight smile can lead to.
You will also learn how you can have your teeth whitened for FREE after they are straight
DOWNLOAD TODAY BY CLICKING ON THE PICTURE ABOVE
Concerns about braces
The type of dental braces you get will depend on how much correction your teeth need, your budget and other factors. They may feel slightly uncomfortable at first, but as time goes by you will quickly get used to how they feel.
Braces can be worn for a few months or up to two or three years. During this time, you will need to see your dentist regularly for follow-up appointments and check-ups.
The average cost of braces
The cost of braces will differ depending on the type you get, how long you will need them for, the expertise of your dentist and the materials used. High quality dental service and care will usually come with a higher fee, as your dentist will have had years of experience in carrying out this procedure.

Why use braces?
Typically, a dental practitioner will recommend braces to a patient if the alignment of their teeth could be improved. This could be because of gaps between teeth, overcrowding, or issues with improper bite (also known as malocclusions
These problems can cause all sorts of issues if left untreated. It can affect the way you bite and chew and even the way you talk, so it's important to seek the right solution.
Crooked or uneven teeth can also affect the way you see your smile. Everyone wants to be able to flash a perfect grin, but not everyone is born with straight teeth. If you're self-conscious about the appearance of your smile, braces can be a permanent way of changing it for the better.
Post-care
Once your braces have been fitted, you will need to see your dentist for a follow-up every 3-6 weeks. He or she will check your progress, monitor and adjust the braces to make sure your teeth are moving as planned.
To look after your braces and your teeth during the treatment, you will need to take extra care brushing around the brackets and in between the wires. You may need to avoid difficult foods that are likely to get trapped in your braces.
Dental payment plans
High-quality braces can be a large investment, but a dental payment plan can help make the treatment more affordable. Ask your dentist about the options for paying off the treatment gradually – this way, you still benefit from the expertise of an experienced dentist but you won't have to deal with making up-front payments.
At Sloan Dental we offer a range of finance options, allowing you to spread the cost of your braces over 12 months at no extra cost. Contact Us Today to find out more. All Dental Braces consultations are carried out by Niall Sloan and are completely FREE OF CHARGE.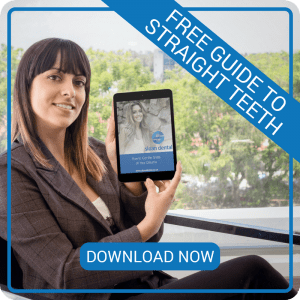 Learn how you can have FREE TOOTH WHITENING WORTH £269
once you have straightened your teeth
DOWNLOAD OUR GUIDE TO STRAIGHT TEETH TODAY