How to Deal with a Broken Tooth or Lost Crown at Home
At the best of times, a broken tooth or lost crown is a mild inconvenience that is easily rectified with a visit to our practice. However, because of the COVID-19 outbreak, Sloan Dental can only provide emergency dental care.
If you are experiencing pain so severe that you can't sleep or eat, please telephone the practice. Please do not attend the practice without a pre-booked appointment. If the pain is manageable with pain killers, please read on to find out how you can treat your broken tooth or lost crown from home.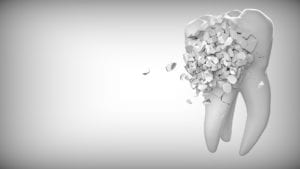 If you have a broken or chipped tooth:
To avoid worsening the break, avoid hard foods like nuts and apples. You'll also want to avoid foods with small seeds like lemon poppy muffins, chia seed pudding, and strawberries. If your tooth is cracked, you can fill the crack with a temporary tooth filling, which you can find at most pharmacies.
Make sure to keep the area clean by rinsing your mouth with salt water regularly – this will prevent any food debris from getting caught in the tooth. And, of course, continue brushing and flossing your teeth regularly.
Avoid chewing on the side of your mouth that's injured to prevent pain and irritation. If pain continues, you can use paracetamol (Panadol) or toothpaste specialised for sensitive teeth like Sensodyne Repair and Protect.
If you've lost your crown, follow these simple steps:
Clean and check the crown. If the crown is mostly hollow, you can try to re-cement it at home.
Remove any debris and old cement and clean your tooth thoroughly so that the crown sits correctly on your tooth.
Buy dental cement like Recapit from a pharmacy. Do not use superglue to fit your crown.
Check the crown fits before applying the dental cement. If the tooth feels too tall, double-check for debris.
Once you've practised placing your crown, dry the tooth and crown, mix the cement as instructed on the packet and fill the crown. Place the crown directly onto the tooth. Bite firmly to press it into place.
Remove any extra cement with a toothpick and floss between your teeth to make sure they don't stick together.
If you can't get the crown to fit properly, keep the tooth as clean as possible until you can visit us again.