You might be surprised to learn that Invisalign wasn't invented by a dentist. The idea was brought to life in 1997 by Stanford student Zia Chishti. After having his adult braces removed, Zia received a clear retainer to wear at night to keep his teeth in the correct position.
He wondered why the same clear aligners couldn't be used throughout the whole treatment plan. He approached a few fellow Stanford graduates with his idea, and founded the Invisalign company soon after.
Of all the orthodontic options available, Invisalign is perhaps the most popular. In Glasgow, the majority of patients looking for orthodontic treatment will ask for Invisalign by name.
The removable and clear aligners are a popular choice with teens and adults alike. But while it might be a popular choice, it isn't suitable for everyone.
In this blog post, we're going to explore two of the most popular Invisalign options in more detail. We will look at the full Invisalign and Invisalign Go treatment plans, exploring the differences in treatment and outcome. We'll also look at some factors that could make Invisalign less successful than other orthodontic treatment plans.
Invisalign Go Vs Invisalign Full
The main difference between Invisalign Go and the full Invisalign programme is the length of treatment. Invisalign Go is a shorter treatment programme suitable for minor imperfections and simple cases.
Invisalign Go uses fewer aligners, so treatment time can be as short as 4 months. Invisalign Go is designed to be completed with up to 20 aligners, so it wouldn't be suitable for more complex cases.
The full Invisalign programme can use around 30 trays over 12-18 months. In more complex cases, as many as 50 aligners may be used. It's a common misconception that Invisalign is only suitable for minor changes. With precision wings and attachments, Invisalign can tackle even the most complex cases.
Advantages of Invisalign Go
The short treatment time can get results in just 4 months.
Suitable for simple cases such as misalignment and gaps.
Lower cost than the full Invisalign treatment plan.
Invisalign aligners are discreet and removable.
No need to give up your favourite foods.
Easy to care for teeth throughout treatment.
Disadvantages of Invisalign Go
Not suitable for all cases.
Not available on the NHS.
Removable aligners are more likely to be misplaced.
There is the risk that the patient won't wear them for 22 hours per day.
You will need to remove the aligners before eating or drinking.
Aligners need to be rinsed every time they are removed and washed twice per day.
Advantages of Invisalign Full
Suitable for a range of orthodontic corrections.
Can remove the aligners to eat, drink and brush teeth.
Payment plans are available to help spread the cost.
Almost invisible aligners, so less self-consciousness.
Can easily enjoy your favourite foods throughout treatment.
Teeth are easier to care for than with traditional fixed braces.
Disadvantages of Invisalign Full
Treatment can take up to 18 months.
Not available on the NHS.
A lost aligner will need to be replaced, which could prolong treatment.
Need to remember to wear aligners for 22 hours per day.
Have to remove the aligners to eat and drink.
Need to rinse the aligners before replacing them and clean them twice a day.
Invisalign Go Vs Invisalign Full: Which is better?
As you can see above, all Invisalign treatment plans have their pros and cons. But the choice between Invisalign Go and Invisalign Full will nearly always come down to a clinical choice.
This means that some people won't be candidates for Invisalign Go or Invisalign Full. And in some cases, other orthodontic treatment options such as traditional fixed braces might be more suitable.
If you are prone to misplacing things or would struggle to wear your aligners for 22 hours per day, Invisalign might not be the right option for you.
Is Invisalign Go cheaper?
Invisalign Go is cheaper than the standard Invisalign treatment. This is because there are fewer aligner trays and a shorter treatment time. Although it is less costly, you will still have the same access to pre-and-post-treatment perks.
This includes the Invisalign iTero scanner which allows you to see what your teeth could look like after treatment. We find that this visual guide helps keep patients on track with their treatment, as they know exactly what they can expect to achieve.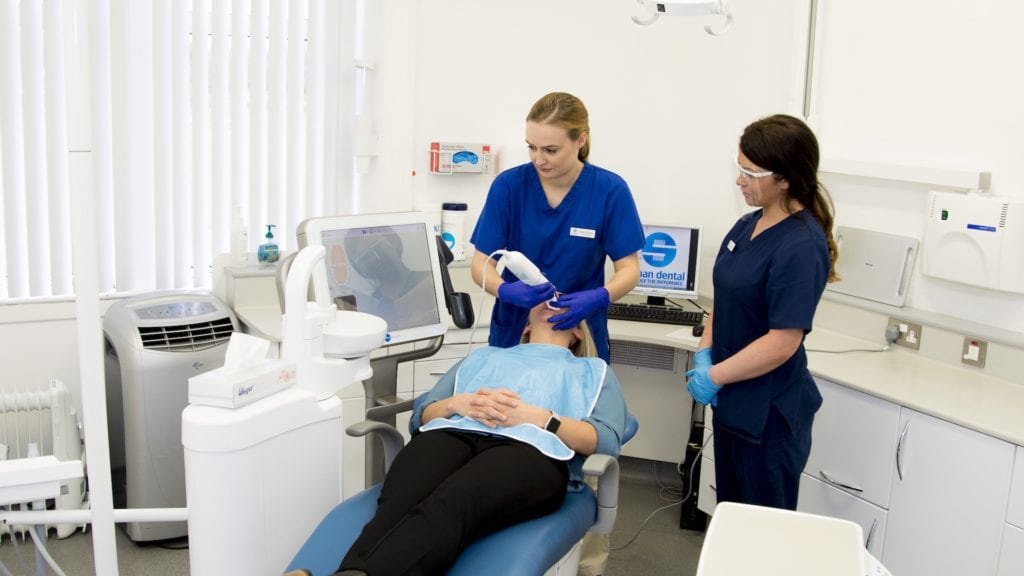 Will I need to wear a retainer?
At the end of any orthodontic treatment, it is advisable to wear a retainer at night to keep your teeth in alignment. Without this important step, your teeth may gradually shift back to their original position and the orthodontic treatment will have been for nothing.
Do I really need Invisalign?
Every case is different, and Invisalign might not always be the best option for you. At Sloan Dental we offer a range of orthodontic treatment options to help you achieve a perfect smile. To explore your options for teeth straightening, we recommend you book an appointment at our Bishopton, Carfin or Merchant City practices.